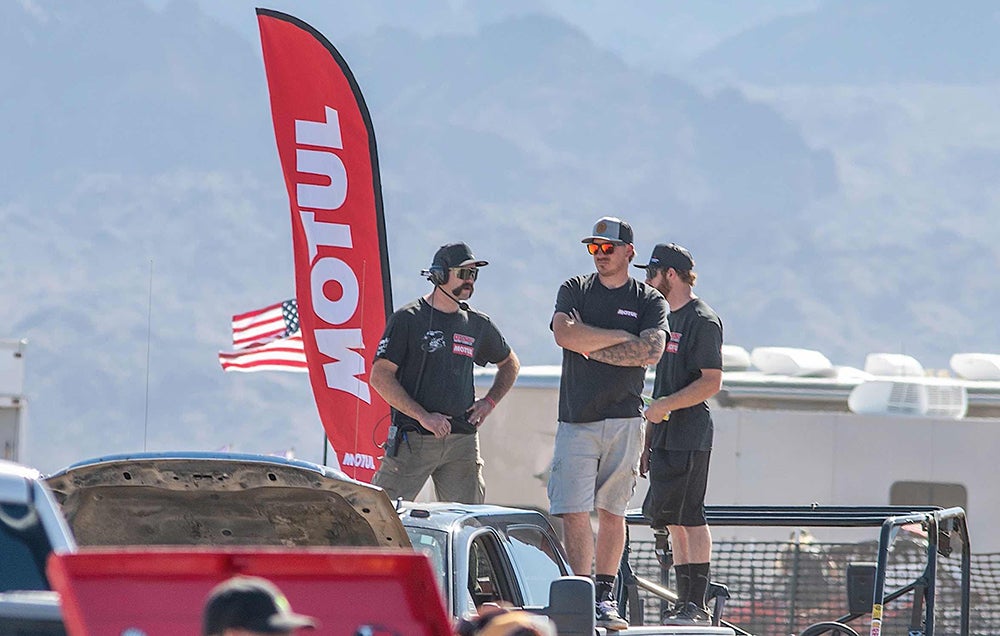 The weekend of May 7/8 at the Legacy Stateline Shootout in Primm, NV, proved to be an event that will be remembered for only two things by Team OTSFF/MOTUL: The extreme heat and a DNF on day two. Although day one saw team owner/driver Andre Laurin and navigator Kerry King limp their way into a top-10 finish, day two proved to be a pull-off-the-track affair. It was only the second DNF for the team, however, in four seasons of competing in the 6100 Spec Trophy Truck class. A comforting thought at the end of the day.
Primm, which is a looped track event consisting of some 17 miles of challenging terrain, is usually traversed by the potent 6100 trucks in about 14 minutes depending on conditions. This was not the case, however, for the majority of 6100 entries, which at 17 proved to be less than half of what is encountered at most of the off-road races on the schedule. Of those 17 vehicles only 11 managed to score points in both Saturday and Sunday's nine-lap races. That was comforting also.
Day one went reasonably well but with temperatures reaching 110° F (44° C), the OTSFF/MOTUL truck's engine was unable to keep its cool. This meant that Laurin could not push the motor without frying it, an issue that pretty well everybody had to deal with. Still, Laurin managed to keep a fairly consistent pace that saw the truck get through all nine laps and with it a top-10 finish.
Day two proved to be somewhat cooler and Laurin and King were looking forward to making up for the previous day. Within four minutes of starting Laurin powered the 6100 truck past two competitors and soon found himself to be third in position on the clock. The motor was keeping its cool until lap four, when it suddenly started seriously overheating. The cause was not the outside temperature this time but a damaged water pump. It had been victimized by a rock impact and that was all she wrote for Team OTSFF/MOTUL.
"Although we get some hot weather in southern Ontario, we don't see temperatures that hit 110 too often and if it does it's a humidity factor. For us, 95° is a scorcher! For Kerry and me it was like driving around in a sauna. I think the engine would have preferred to be in Canada on both days, too. Anyhow, we were happy enough with the fact that we finished Saturday's race. And that it was still top-10. It's not where we wanted to be, but points are points and we'll take them. Day two, which started out promising enough, unfortunately did not turn out into the redeemer we envisioned. When the water pump started failing, I knew I had to shut the engine down or deal with the consequences," Laurin said.
Team OTSFF/MOTUL would like to thank all the individuals and partnering companies for their invaluable support to help make our participation in the Primm Stateline Shootout possible. You guys are awesome! We owe you all a debt of gratitude.