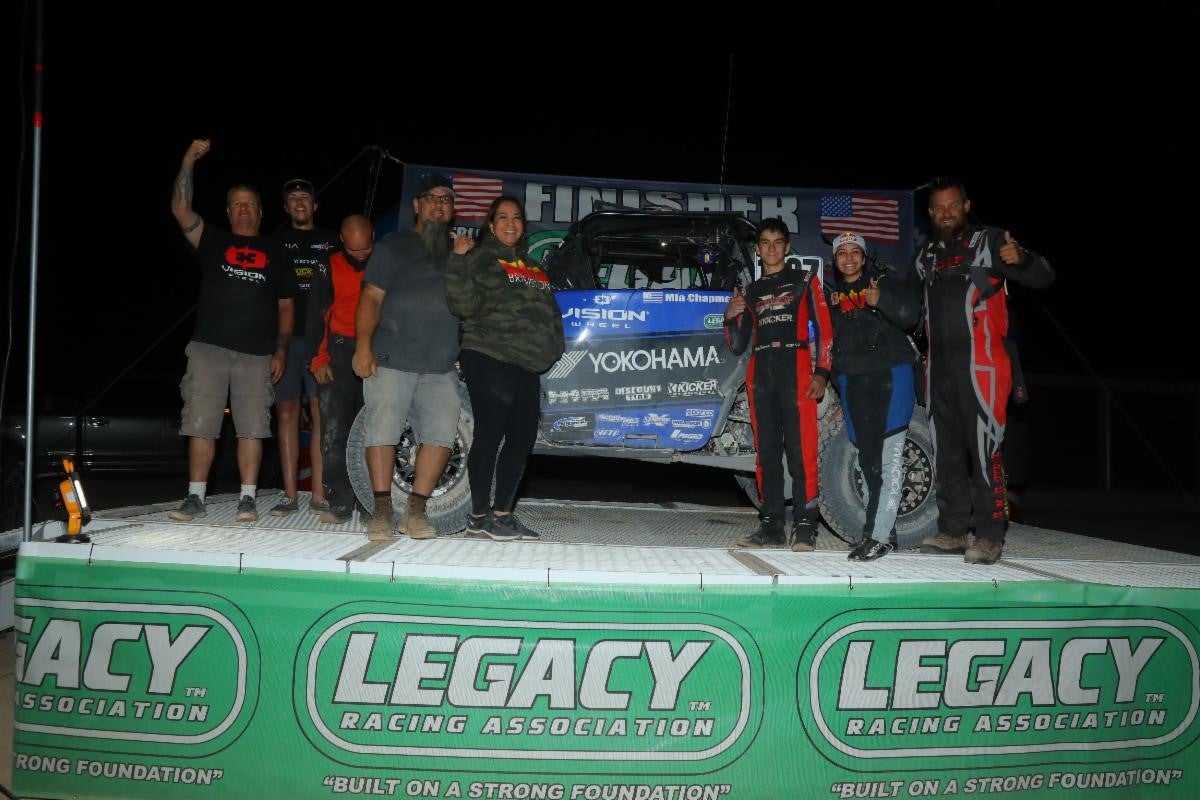 Professional off-road racer and Red Bull athlete Mia Chapman and her family race team conquered one of the most challenging off-road races in America on June 25 with a podium finish in the second annual Vision Wheel Baja Nevada, the longest race on the 2022 Legacy Racing Association calendar. Chapman and her #1937 Yokohama Tire/Vision Wheel Polaris RZR placed third in the UTV NA class for her first podium result of the year.
After spreading out over two days in its 2021 debut, the Baja Nevada was condensed into a single-day point-to-point race for its second running. The event represented a major shift in every way from May's Stateline Shootout in Primm, Chapman's previous Legacy race start; the Primm event was a two-day race that featured eight laps per day on a nine-mile course and multiple race sessions per day for different class groups.
But while they were lining up against some of the most competitive normally aspirated UTV race teams in the sport, Chapman, her father Joe, brother Ryder, and co-driver Shane Till adapted to the vastly different challenge with a consistent run that avoided the DNFs that befell some of the sport's front-runners. The team crossed the line third in class with a time of 14:32:56 over the 650-mile course, putting Chapman sixth in the championship standings after the event.
"This was definitely the longest and most challenging race we've accomplished so far, and I'm so stoked we were able to pull off a third place finish!" said Chapman. "We ran into a couple minor problems in the beginning that set us back on time, but we got it all fixed up and ran a smooth race from there, and got it to the finish. I teamed up with my little brother Ryder for this race and he did awesome—with this being his first time in a big desert race, he logged 232 miles all at night. It definitely wouldn't have been possible without the help from my amazing crew and best prep man I know Joe Chapman! Big thank you to my parents and all of my partners that help make all of this possible!"
Mia Chapman is supported by Red Bull, Yokohama, Kicker Performance Audio, Vision Wheel, Rigid Industries, JB15 Group, Action Sports Canopies, AiM Sports, Xtreme Racing Fabrication and R-N-R Steel Racing. For more information on Mia Chapman and her off-road racing career, visit www.miachapman.com or follow Mia on Facebook, Twitter, and Instagram.